Heads I Win
Tails You Lose
A financial strategy to reignite the American Dream.
---
It's no secret that Americans are losing the game of money. In Heads I Win, Tails You Lose, Patrick Donohoe teaches you how to win. Discover the time-tested and proven wealth-building strategies that lending institutions, government, and fee-based advisors don't want you to know about – the ones that put the power of financial freedom back in your hands.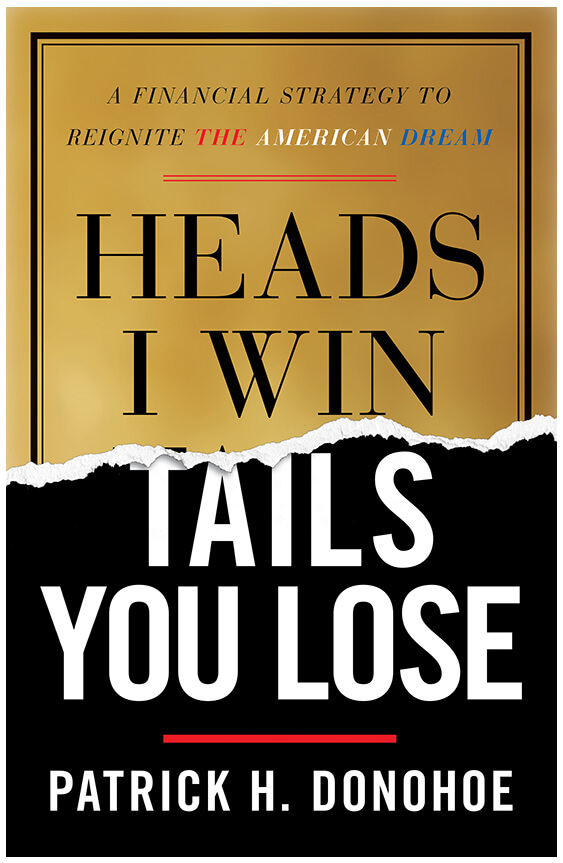 About the Author
---
Patrick Donohoe is the Founder and CEO of Paradigm Life and PL Wealth Advisors. Patrick and his team teach thousands how to build wealth, create lifetime cash flow, and leave a meaningful legacy. Patrick was recently honored by Investopedia as one of the Nation's Top 100 Most Influential Financial Advisors. He is a highly sought after presenter and speaker at financial-based events around the country and is the host of The Wealth Standard podcast. Patrick grew up in West Hartford, Connecticut, and attended the University of Utah, where he received his bachelor's degree in economics. He lives in Salt Lake City with his wife and three children.
Heads I Win, Tails You Lose offers life changing education that:
---
Illustrates the true risk of relying solely on 401(k)s, IRAs, and other traditional financial vehicles
Uncovers the proven financial strategies used by the wealthy to grow and protect their wealth
Teaches you how to maximize cash flow and returns in any market condition, acting as your own bank
---
Demonstrates a clear path for eliminating reliance on expensive loans, government-backed programs, and advisor fees that end up controlling you
Dispels the myths surrounding whole life insurance as a financial tool with examples from the early 1900s through today, including Patrick's firsthand experience and those of his clients
Ultimately shows you how to take back control and achieve true financial freedom
Discuss Your Financial Future With a Qualified Advisor
Patrick's team at Paradigm Life is ready to show you how you can implement sound financial strategies, starting today.
---
You have an epiphany discovering that inflation, emotion, taxes, fees, and volatility often conspire to make real returns from traditional retirement vehicles near zero—a 401(k) is more of a 'Life-Deferral Plan' than a 'Tax-Deferral Plan.'
We are not taught any financial education in schools, colleges, and universities, and as a result, the majority of people find themselves losing in the game of money. As one of the top financial educators, Patrick shares a blueprint of how to take control of your financial life and investments and achieve financial freedom. This…
I don't have a 401(k) (and I never will). I don't have 529 plans for my kids (won't do that either). I'm stashing my money in the strategies Patrick talks about in Heads I Win, Tails You Lose. When the next mega crash hits, I'll sail right through it unscathed…while the rest stress, panic, and…
This is one of the few books that has it all. Heads I Win, Tails You Lose shows you the time-tested path to build and protect generational wealth. Plus it gives you the history and hard facts of how blind trust in Wall Street will cost you tens of thousands of dollars.
This book is a window into Patrick's world of proven and practical wealth strategies that have surprisingly been forgotten. I'd encourage anyone who is fed up with the typical financial planning world and seeking financial freedom to read Heads I Win Tails You Lose.
Don't be part of the uninformed majority who don't plan well for their future. Read this book and apply Patrick's wisdom and insights to turn the American dream into your personal reality!
Financial Knowledge is Financial Power
Life-changing financial education doesn't stop here. Get access to a wealth of additional tools, tips, and resources from Patrick Donohoe – all completely free.